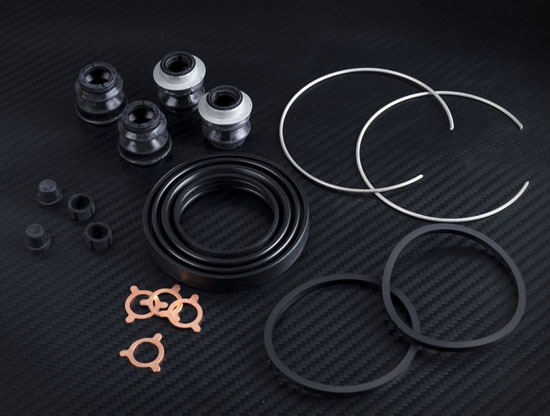 Brake caliper kit
contain all items needed to rebuild a disc calipers on one car front or rear. - The piston seal is the main item in and it is done by EPDM material with excellent resistance to high temperature and aggressive environment like brake fluid or road cleaning chemicals. The laser cutting technology provides perfect geometry of angles that guaranties good sealing. It also helps to retrieve piston back from pad one brake pedal release. It's remain good flexibility on for a long time despite the aging process. The working temperature range for SB seal is extremely wide from -40? up to +300?
Piston seal position and design is done in the way that it's got deformed and retrieved back while you press and release the brake pedal. Some more, the piston position in cylinder is changing with pad thickness diminish process but the seal fixed in cylinder is doing the same job in all the time. So, it is self-regulated system with self-adjustment according to pad thickness. In fact, the brake pads movement amplitude is very small and it's just enough to release the grip from rotor. But it is very needed to prolong the life time of brake pads and other brake system components by excluding unlikely material usage and aging process cost by prolong overheating.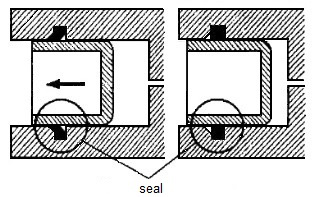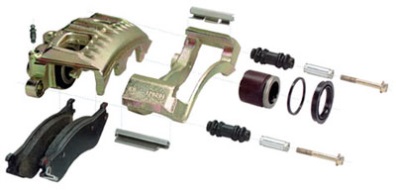 You will find high temperature silicone grease in the kit (like NICHIMOLY, FX-2400 Silicone Disc Brake Calliper grease). It is high melting point silicone based grease working in wide temperature range from -46C to +299C. Beside, it's not dissolvable by brake fluid and compatible to most plastics and rubber based material especially with EPDM and EPT polymers used in callipers.